Stock Market Meltdown or Meltup ??
STOCK MARKET MELTDOWN OR MELTUP??
What a difference a few months make. Perhaps I don't have to remind you of the market correction/bear market in the last quarter of 2018. It cumulated into what they call "The Christmas Eve Massacre." Traditionally, the market doesn't go down a few days before Christmas, but in this case it did – Hence the name.
Well, in the first four months of 2019 we not only recovered, but it was the second fastest recovery from a correction/bear market in history.
Could this be a meltup, not a meltdown? And what is the difference? Well, I'm sure if you're an investor, you have probably experienced both. Let's talk about the ugly one first, meltdown.
Meltdown – When the market is not only going down but seems to accelerate and go down as the days and weeks drag on, I'm sure you remember 2008-2009. 
Meltup – Hey, this is much more fun.  It's when the market continues to go up.  Certainly not every day, but as the months go by.  Now the psychologically changes from investors worried about losing money to the fear that they're going to miss out.
It amazes me that during the meltups, clients will call the office and say, "Hey, John, you know I just found some money." I said, "Well, what do you mean by that?" "Well, I've got another $200,000 or $300,000 to invest." Now, I'm not naive enough to think that they found more money. It's not like finding spare change in the sofa. What they're really saying is that they feel pretty comfortable about the market.
So here is what I know as we get ready to head into hurricane season:
We have had the second fastest recovery from a correction/bear market in the history of the market.
Markets don't die from old age. They die from recessions.
GDP is up.
Unemployment is down.
Incomes are rising.
Of course, there are still more issues out there like trade with China, a 22 trillion-dollar debt, but I like the odds now versus in the last quarter of 2018. If you remember the Fed was raising rates, and there was the daily talk of a pending recession. As always, it's better to watch what the market is doing versus listening to somebody on the TV, trying to scare you into buying gold and heading for the hills.
Check out this chart of the S&P 500. Look at the tops in 2018-2019. Do you see where the market got up to around 2900? That's a key technical level. Those 2 blue lines – It's known as a trading channel. If we could not only stay around these levels, but power through them, many investment advisors including myself will chalk that up to the next leg up of this bull market.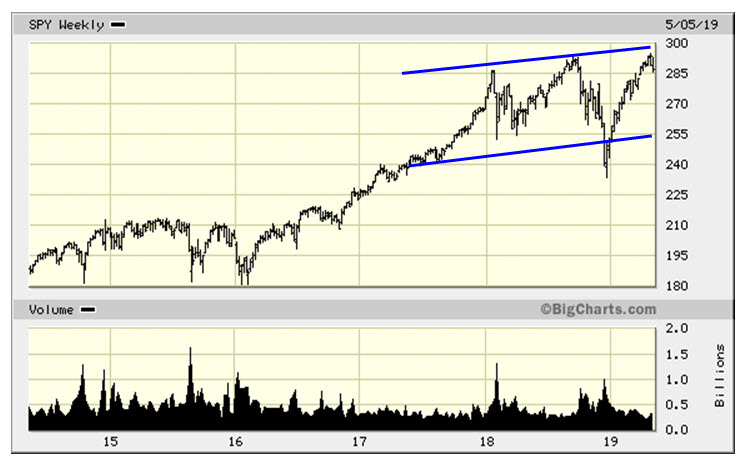 Sincerely,
John Romano, CFP®
John Romano, CERTIFIED FINANCIAL PLANNER™, has over 30 years' experience in the financial field. John is a Registered Representative with Securities America, Inc. (member of the FINRA and SIPC), and an Investment Advisor Representative with Securities America Advisors. He has prepared hundreds of reports for retirees to assist in their retirement income planning needs. He is dedicated to providing portfolio analysis, dividend and income information, and investment management services to retirees (and those preparing to retire) in The Villages, Florida, and throughout the United States.
Securities offered through Securities America, Inc. Member FINRA/SIPC, John Romano CFP® Registered Representative. Advisory Services offered through Securities America Advisors, Inc. John Romano Investment Advisor Representative. Romano Income Strategies and Securities America are not affiliated.
Trading instructions sent via e-mail may not be honored. Please contact my office at (352)753-8590 or Securities America, Inc. at (800) 747-6111 for all buy/sell orders. Please be advised that communications regarding trades in your account are for informational purposes only. You should continue to rely on confirmations and statements received from the custodian(s) of your assets. The text of this communication is confidential and use by any person who is not the intended recipient is prohibited. Any person who receives this communication in error is requested to immediately destroy the text of this communication without copying or further dissemination. Your cooperation is appreciated. Guarantees are based upon the claims paying ability of the insurance company. Past performance does not guarantee future results.
John Romano, CFP®
305 Skyline Drive, Suite 3, Lady Lake, FL 32159
Phone: 352-753-8590
Email: John@RomanoJohn.com